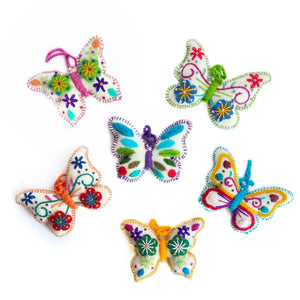 Wool Ornament - Embroidered Butterfly
These Butterfly Ornaments are a flutter of dazzling color! Each ornament is handmade in Peru, South America using traditional techniques. The plush white butterflies are hand embroidered with vibrant thread and felt embellishments. No two are exactly alike.
Dimensions: 3.5" high x 5" wide
Materials: sheep wool, yarn Color: various colors
Every purchase strengthens families, enriches communities, and helps orphans and vulnerable children in the areas the items are sourced.
Made in Peru
Available colors and patterns change frequently - call the store for current selections, or make it a surprise!