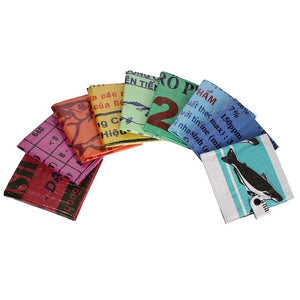 Recycled Feed Bag Wallet
This wallet is environmentally friendly and perfect for every day use.  It features a snap closure, 2 dollar bill pockets, a clear ID pocket, side storage pockets, and multiple ID/credit card pockets. This is the perfect size, big enough to carry all of your every day essentials, but small enough to throw in a bag or jacket/jeans pocket. Made out of recycled feed bag. Prints vary but each are original which makes them extra special!
Handmade in Cambodia.
Measures at 4"L x 4"H