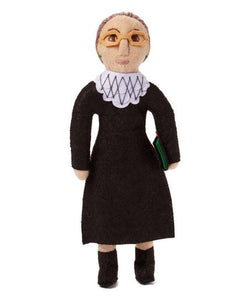 Felt Ornament Collection - Ruth Bader Ginsburg
Honoring the late Ruth Bader Ginsburg - Ruth Bader Ginsburg was a revered supreme court justice and a pioneer for equality and Women's rights. No description could accurately or fully capture her passion, her legacy, and her impact on the world around her. Rest in Peace RBG. 
Silk Road Bazaar Felt Ornaments - These felt ornaments are handmade by talented artisans in mountain villages of Kyrgyzstan. Your purchase empowers women in Kyrgyzstan, reduces global poverty, and supports fair trade!