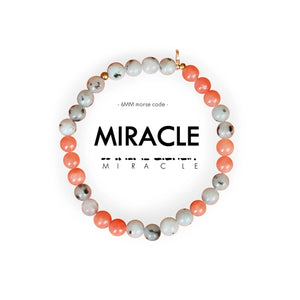 6mm Morse Code Bracelet - Miracle
MIRACLE. "Every Day Holds the Possibility for a Miracle." This bracelet spells MIRACLE in Morse Code in gorgeous 6mm beads. Wear it to remind you that your miracle could be right around the corner. 
How to read your jewelry: A Morse Code dot is one bead and a dash is two beads in the alternating color. Start at the small gold spacer bead and follow the Morse Code spelling around the bracelet!
Details: Jasper & Orange Coral 6mm Beads * Length - 8" | Stretches to 8.75"
Handmade in Thailand by women who are survivors of human trafficking
Made with semi-precious stones, glass beads, elastic, and love.  
Made in Thailand